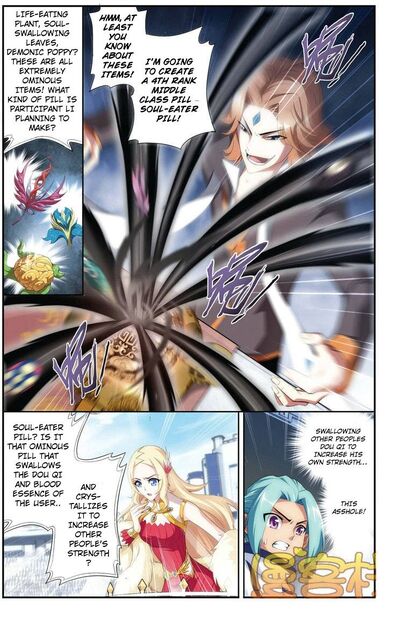 The Soul-Eating pill is a 4th class middle class pill, which allows the user to consume another mans power. As you can see on the page on the right, he explains all of this. But I really don´t get what he means by "swallowing", logically I would think that the one who swallows the pill has his Qi and Blood crystalized inside his body, which means you would need to cut it out. But after some discussing with friends and admins, we have come to agree, that the pill works like this=
The one who swallows the pill dies (duhh) and his qi and blood is crystallized and turned into a pill outside the body, which in turn someone swallows to gain the deceaseds power and qi. It is uknown if the Soul-Eater pill takes blood transfusion into account. Most likely not but hey who knows. Anyway, this is the explanation that we have reached.
If you have any theories about how it works, or any questions about this soul eater pill please ask them in the coments below. Hope you enjoyed this little documentary. 
Users:
Ad blocker interference detected!
Wikia is a free-to-use site that makes money from advertising. We have a modified experience for viewers using ad blockers

Wikia is not accessible if you've made further modifications. Remove the custom ad blocker rule(s) and the page will load as expected.